The best shoes on the planet just got better, for Speedplay pedal users. For 2012, SIDI introduces the all-new SP Carbon Sole®, dedicated to Speedplay's 4-bolt cleat mounting system, giving Speedplay users better power transfer, more efficiency and comfort than any shoe available.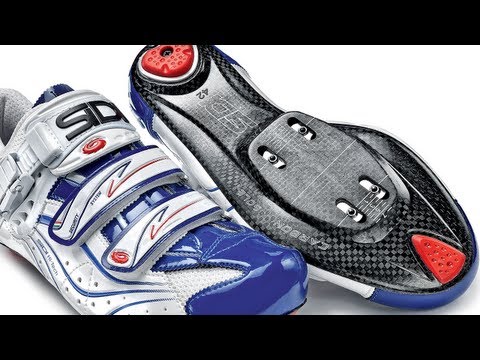 Speedplay's pedal system—which was used to sweep the podium at this year's Tour de France—provides the best stack height available, with the lowest sole-to-spindle measurement. But Speedplays were designed for a now-defunct 4-bolt drilling pattern. In a world of 3-bolt shoes, Speedplay users are forced to employ an adapter, which reduces the system's stack height advantage and considerably complicates cleat setup. Not anymore.

The new SP Carbon Sole® is Speedplay Approved, with a cleat mounting pad that's dead flat for perfect setup, eliminating 54 grams of adapters and providing greater biomechanical efficiency by lowering stack height 4 mm. The cleat platform features a printed alignment scale, with generously sized adjustment tracks providing 6 mm more rearward adjustment latitude for easy setup.
The SP Carbon Sole® sole is 8 grams lighter than SIDI's previous top-drawer Carbon Lite Sole®, and is built for SIDI by an Italian contract supplier for Ferrari and Ducati, handmade exclusively from high-grade T700 carbon fiber. Despite being lighter, and incorporating those long cleat adjustment tracks, the SP Carbon Sole® is measurably stiffer, deflecting just 1.5 mm in SIDI's rigidity test, in which a 50 kg weight is suspended from one end of the sole (the Carbon Lite sole deflects 1.9 mm).
Like all SIDI soles, the SP Carbon Sole® is engineered to provide some measure of flex in the toe area, which studies have shown helps reduce plantar tendon strain and the possibility of plantar tendonitis from cycling's repetitive motion.
The SP Carbon Sole® is featured on SIDI's new Ergo 3 SP Carbon® and Genius 6.6 SP Carbon® road shoes, and T3.6 SP Carbon® triathlon shoe.
Related posts: